So what the heck. people have some balls. someone actually messaged me this:

Hey beautiful. How are you? My name is Mike. I am 25. I am 6'2, italian, hockey player frame. italian, hung(9in), smart, funny, and sucessful. I know im forward, but I when I see something I want i get it. tell me about yourself? my number is 773-xxx-xxxx text/call me or email me back.

No. that is wrong on so many levels.

My neighbors had a party Sunday night. I ran into my landlords the next day randomly an d they are going to talk to them about it. I guess they told the landlords but there were about 20 people there and they were not aware it ran til 2am (maybe longer but I finally found my ear plugs at that time and fell asleep). Insane. It is Sunday, I have to wake up at 6am.

So 2 weeks ago on Thursday my friend and I went liquid lunch style on some sangria and then made a snow man.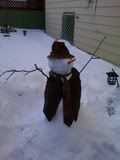 I forgot what we named him though.

So this amazing guy did a mash-up from the top 25 songs of 2009. It is flawless. Insanely flawless.


Watch it.

I have a date on Thursday with a guy that does animation/special effects in films/he teaches a class at DePaul also for special effects. I've also been talking to this lawyer, keeping options open.

I have decided I am going to do every thing in my power to make it to Jamaica for Tanya/Andy's wedding. I want to go so bad. My tax return is pretty decent so I can pay off a lot of my debt with that which means my now money I can start to save.

Where I write for (one of the 2 places) is annoying me. www.mademan.com
Not a high point in my career that site, but they pay me a flat fee per article and I worked it out to where if I do 10 articles a week for an entire month(40 total) that is the majority of my rent money. Well I cannot get paid until my editor reads/changes things up a little/if he wants me to change some things send it back to me with critique/ready to go live. It has been taking 2 weeks to get my articles ready to go live by them.
It is not anything crazy I am writing and every thing has to be less than 700 words..so what is the hold up. What really gets me is since I am a new writer they are only letting me do 5 articles at a time (I submit 5 and once even one gets approved then I can do another) At the rate this is going I am only going to have 20 articles done per month because of the waiting.

I was told once I get more established on there they will bump me up to 10 articles on hold so we will see. Im going to give it another month and see how it pans out.

On that note I need to write.