Last night I went to this party HBO had for their new show 'How to Make it in America'.
I took my friend J as my plus one and the snow did not slow us down from going. We got about 10 inches total that day.

I always feel a bit out of place and , "What am I doing here" kind of thing going on when at events like that. J said he felt the same way because he has a ton of friends in the arts and music world in some form and always feels out of place when his friends take him to places like I did last night. Best quote ever, "I think most people at some point throughout the night think, how did I get here, I do not not belong....and if they don't well...they are self-centered douche bags."

The creme de la creme of Chicago's music industry was there, which is weird because it is a television show...but it was nice being and hanging out with old friends, people I interviewed, photographers, etc. The boys from The Plain White T's, The Academy Is...owners of Angels & Kings, radio dj's, pretty much if your band hit mainstream and was from Chicago and you are not on tour..you were there.

Free food and booze was amazing and it was at Violet Hour which is this swanky place I would NEVER be able to afford right now. The grilled shrimp was the best..soooo yummy. I had 3 drinks and was buzzed. Heavily buzzed. The drinks were straight up pure alcohol. As J said after he took his first sip, "Whoa! I guess they really want us to like this show".

Party gifts are my favorite, and we got glass that says the shows name and a flash drive. Sweet because I JUST lost my flash drive when I moved.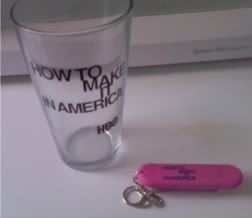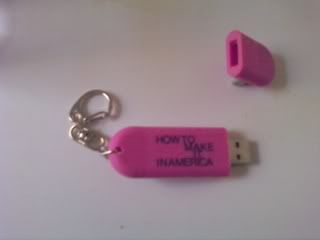 Even if I don't feel like I belong there it is nice to be asked to go to places like that.

I just hope one day people don't realize I am a really shitty writer and the invites stop.